Wo bin ich gerade?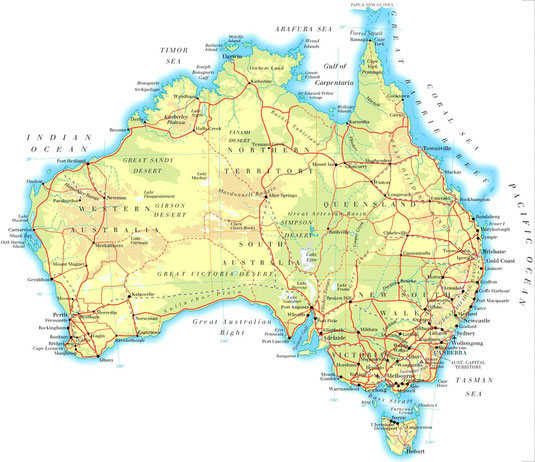 November 2014 

06.11.
wieder on the road. :-) 4.000 km zur Westküste bis nach Perth. Meine neuen Reisepartner sind Tobi aus Hamburg, mit ihm habe ich schon in Airlie Beach zusammen im Hostel gearbeitet und Katrin, meine ehemalige Arbeitskollegin von DailyDeal. :)
04.11.
Heute war mein letzter Arbeitstag in der Howard Springs Tavern
Oktober 2014
29.10.
Auf dem Oktoberfest zu arbeiten war richtig klasse, auch wenn es zum Teil ziemlich chaotisch war. Leider wurde meine Freude mit der Nachricht über den Tod von Darren's sehr guten Freund Jimbo überschattet. Er hatte einen schweren Motorradunfall. Gestern war seine Beerdigung.
09.10.
Juhu, wir haben den Job. Nächste Woche werden ich und Fredie 4 Tage lang auf dem Oktoberfest in Darwin arbeiten und die Gäste betreuen - mit deutschem Essen und Original Hofbräubier.
____________________________________________________________
September 2014

07.09.
Das Probearbeiten war super, ich hab den Job als Kitchenhand und es macht echt rießig spaß.
04.09.
Das Jobinterview in dem großen Restaurant war erfolgreich, am 07.09. habe ich meinen ersten Probearbeitstag.
____________________________________________________________

August 2014
27.08.
Glücklich und entspannt nach über 5.000 km in Darwin angekommen. Unser Roadtrip war super Mega toll, nie langweilig und voller schöner Erlebnissen und Abenteuern. :) 
15.08.
Auto ist wieder in der Werkstatt. Diesmal aber zum letzten mal. :) Bremsen vorne waren komplett runter. 
06.08.
On the way from Cairns to Alice Springs and Darwin. Let's go to my first big outback experience. This is the plan: 1.200 km from Cairns to Mount Isa, 1.200 km from Mount Isa to Alice Springs and 1.500 km from Alice Springs to Darwin. I had an absolutely amazing time in the Tableland's and I met so amazing people! Thank you so much for all your love and inspiration! Xxxx
____________________________________________________________
Juli 2014
18.07.
Auto ist mal wieder in der Werkstatt, wahrscheinlich die Stossdaempfer und/ oder Radlager vorne und dann riecht es immer noch stark nach Oel und Qualm kommt aus dem Motorraum, nachdem ich grosse Berge hoch gefahren bin...
17.07.
neuer kleiner Job als Nebenverdienst bei den Eltern von Scott fuer max 3h am Tag ab Montag, den 21.07.
04.07.
Bin jetzt Nanny bei Scott, einem Australier fuer die naechsten 3 Wochen. 
____________________________________________________________
Juni 2014

20.06.
Habe jetzt meinen ersten Fruitpicking-Job  für die nä. 2 Wochen :)
18.06.
Unter dem Reiter "Kurioses & Alltaegliches" packe ich jetzt immer alle schoenen, aktuellen und auch witzige Sachen, die mir so auf meiner Reise begegnen. 
____________________________________________________________
April 2014
Das ist meine neue Handynummer auf der ihr mich jetzt über whats app erreichen könnt: 0061 450 178457
seit 12.01.2015          bei Emilia in Sydney - Darlinghorst
08.- 12.01.2015         bei Richard (Couchsurfing) in Sydney - Panania
07./08.01.2014          Pebbly Beach 
07.01.2015                Bermaguin
(Murramarang National Park)
06./07.01.2014          Genoa Camp Park (Genoa)
05./06.01.2015          Stratford (Apex Park - Freespot)
05.05.2015                Melbourne (Eureka Skydeck 88 & Albert Park)
04.01.2015                Melbounre (Victoria Markets, Melbourne City, Fitzroy & St. Kilda Beach)
01.- 05.01.2015         Sandridge Beach Parkplatz, Melbourne 
31.12.14/ 01.01.15    YHA Metro Melbourne 
seit 31.12.2014          Melbourne 
29.- 31.12.2014         bei Rich (der Freund von einer Freundin von Katrin)
29.12.2014               Warrmambool &
Great Ocean Road (The Grotto, London Bridge, The Arch, Loch and Gorge & Twelve Apostles)
28.12.2014               Portland, Port Fairy, Panumure (Freespot)
27./ 28.12.2014        Kingston SE & Blackfellows Caves (Freespot)
26.12.2014               Adelaide, Hahndorf & Balhannah (Oval Play Field -Freespot)
25.- 26.12.2014        Sunny's Adelaide Backpacker Hostel
24.12.2014               Christmas-Dinner mit seiner Familie
23.- 25.12.2014        bei Brendan in Adelaide (Couchsurfing)
22.12.2014              Ceduna (Quarantänegrenze zu South Australia), Streaky Bay (Cape Bauer, Blowholes and Whistling Holes & Iron Knob (Campingplatz)
21.12.2014              Mundrabilla, Eucla, Nullarbor, Nundroo
20.12.2014              Balladonia, Caiguna, Madura
19.12.2014              Esperance - Great Ocean Drive & Norseman
18./ 19.12.2014       bei Caitlyn mit Katrin und Guido in Pink Lake (Couchsurfing)
18.12.2014              Esperance, Cape Le Grand National Park (Lucky Bay & Helfire Bay), Esperance Jetty
17./18.12.2014        Kundip Freespot nähe Ravensthorpe
17.12.2014              Albany, Granite Sky Walk im Porongurup Nationalpark) & Bluff Knoll im Stirling Range Nationalpark 
16./17.12.2014        Torbay Inlet Freespot (Torbay)
16.12.2014              Greens Pool and Elephant Rock, Albany
15./ 16.12.2014       Parry Beach (Camping)
15.12.2014              Warren National Park 10 km Walk, Giant Tingle Tree - Walpole Nornalup Nationalpark
14.12.2014              Boyup Brook (Harvey Dickson's Music Center), Bridgetown, Pemperton, Warren National Park (Warren Camp)
13.12.2014              Margret River, Nannup, Balingup, Boyup Brook (Harvey Dickson's Music Center)
12.12.2014              Canal Rocks Yallingup, Laurance Wines (Wine Tasting) in Wilyabrup, Gnarabup-, Prevelly Surfers Point- und Rivermouth Beach & Chapman Pool in Schroeder (Freespot)
11.12.2014              Busseltown Jetty, Eagle Bay  - Rocky Point & Yallingup (Caves Caravan Park)
10./11.12.2014        in Vasse (Busseltown) bei Kerensa
09.12.2014              Rottnest Island
08./ 09.12.2014       Fremantle (Freespot Fleet Street - direkt am Leuchtturm zur Hafeneinfahrt)
06.- 08.12.2014       Perth City Center (Ozi Inn Hostel)
05.- 06.12.2014       wieder bei Charlie in Perth - Subiaco (Couchsurfing)
04.- 05.12.2014       The Wave Rock in Hyden
01.- 04.12.2014       bei Charlie in Perth - Subiaco (Couchsurfing)
30.11.- 01.12.2014  York & Skydiving nähe York
29.11.2014              Perth & Couchsurfing bei Matt (Perth-Manningen)
28./29.11.2014        Moore River Bridge Rest Stop
28.11.2014              The Pinnacles - Nambung Nationalpark
27./28.11.2014        Cliff Head Freespot
26./27.11.2014        Ellendale Pool (Freespot)
26.11.2014              Geralton
25./26.11.2014        Waminda Wildlife Sanctuary, Waggrakine
25.11.2014              Kalbarri Nationalpark, Red Bluff Lookout, Pink Lake, Waminda Wildlife Sanctuary
24./25.11.2014        Kalbarri Tudor Holiday Park
23.- 24.11.2014       Denham, Monkey Mia Dolphin Resort, Shell Beach
22./23.11.2014        Carnarvon & Edaggee Rest Area
21./22.11.2014        Lyndon River Rest Area
19.- 21.11.2014       Coral Bay
18.-19.11.2014        Cape Range National Park
16.-18.11.2014         Exmouth
14./15.11.2014          Port Hedland & Free-Camping Maitland River Side
13./ 14.11.2014        Cape Keraudren Campingspot direkt am Meer
12.- 13.11.2014        Broome (Cable Beach Campingplace)
11.11.2014                Ngumban Cliff Rest Area
10.11.2014                Wyndham
09./ 10.11.2014         Kununurra
08.11.2014                Nitmiluk Nationalpark - Katherine Gorge & Katherine & Saddle Creek Rest Area       
 07./08.11.2014         Edith Falls (Nitmiluk Nationalpark / Campingplatz)
 06./07.11.2014         Litchfield Nationalpark (Campingplatz Wangi Falls)
seit 12.01.2015          bei Emilia in Sydney - Darlinghorst
08.- 12.01.2015         bei Richard (Couchsurfing) in Sydney - Panania
07./08.01.2014          Pebbly Beach 
07.01.2015                Bermaguin
(Murramarang National Park)
06./07.01.2014          Genoa Camp Park (Genoa)
05./06.01.2015          Stratford (Apex Park - Freespot)
05.05.2015                Melbourne (Eureka Skydeck 88 & Albert Park)
04.01.2015                Melbounre (Victoria Markets, Melbourne City, Fitzroy & St. Kilda Beach)
01.- 05.01.2015         Sandridge Beach Parkplatz, Melbourne 
31.12.14/ 01.01.15    YHA Metro Melbourne 
seit 31.12.2014          Melbourne 
29.- 31.12.2014         bei Rich (der Freund von einer Freundin von Katrin)
29.12.2014               Warrmambool &
Great Ocean Road (The Grotto, London Bridge, The Arch, Loch and Gorge & Twelve Apostles)
28.12.2014               Portland, Port Fairy, Panumure (Freespot)
27./ 28.12.2014        Kingston SE & Blackfellows Caves (Freespot)
26.12.2014               Adelaide, Hahndorf & Balhannah (Oval Play Field -Freespot)
25.- 26.12.2014        Sunny's Adelaide Backpacker Hostel
24.12.2014               Christmas-Dinner mit seiner Familie
23.- 25.12.2014        bei Brendan in Adelaide (Couchsurfing)
22.12.2014              Ceduna (Quarantänegrenze zu South Australia), Streaky Bay (Cape Bauer, Blowholes and Whistling Holes & Iron Knob (Campingplatz)
21.12.2014              Mundrabilla, Eucla, Nullarbor, Nundroo
20.12.2014              Balladonia, Caiguna, Madura
19.12.2014              Esperance - Great Ocean Drive & Norseman
18./ 19.12.2014       bei Caitlyn mit Katrin und Guido in Pink Lake (Couchsurfing)
18.12.2014              Esperance, Cape Le Grand National Park (Lucky Bay & Helfire Bay), Esperance Jetty
17./18.12.2014        Kundip Freespot nähe Ravensthorpe
17.12.2014              Albany, Granite Sky Walk im Porongurup Nationalpark) & Bluff Knoll im Stirling Range Nationalpark 
16./17.12.2014        Torbay Inlet Freespot (Torbay)
16.12.2014              Greens Pool and Elephant Rock, Albany
15./ 16.12.2014       Parry Beach (Camping)
15.12.2014              Warren National Park 10 km Walk, Giant Tingle Tree - Walpole Nornalup Nationalpark
14.12.2014              Boyup Brook (Harvey Dickson's Music Center), Bridgetown, Pemperton, Warren National Park (Warren Camp)
13.12.2014              Margret River, Nannup, Balingup, Boyup Brook (Harvey Dickson's Music Center)
12.12.2014              Canal Rocks Yallingup, Laurance Wines (Wine Tasting) in Wilyabrup, Gnarabup-, Prevelly Surfers Point- und Rivermouth Beach & Chapman Pool in Schroeder (Freespot)
11.12.2014              Busseltown Jetty, Eagle Bay  - Rocky Point & Yallingup (Caves Caravan Park)
10./11.12.2014        in Vasse (Busseltown) bei Kerensa
09.12.2014              Rottnest Island
08./ 09.12.2014       Fremantle (Freespot Fleet Street - direkt am Leuchtturm zur Hafeneinfahrt)
06.- 08.12.2014       Perth City Center (Ozi Inn Hostel)
05.- 06.12.2014       wieder bei Charlie in Perth - Subiaco (Couchsurfing)
04.- 05.12.2014       The Wave Rock in Hyden
01.- 04.12.2014       bei Charlie in Perth - Subiaco (Couchsurfing)
30.11.- 01.12.2014  York & Skydiving nähe York
29.11.2014              Perth & Couchsurfing bei Matt (Perth-Manningen)
28./29.11.2014        Moore River Bridge Rest Stop
28.11.2014              The Pinnacles - Nambung Nationalpark
27./28.11.2014        Cliff Head Freespot
26./27.11.2014        Ellendale Pool (Freespot)
26.11.2014              Geralton
25./26.11.2014        Waminda Wildlife Sanctuary, Waggrakine
25.11.2014              Kalbarri Nationalpark, Red Bluff Lookout, Pink Lake, Waminda Wildlife Sanctuary
24./25.11.2014        Kalbarri Tudor Holiday Park
23.- 24.11.2014       Denham, Monkey Mia Dolphin Resort, Shell Beach
22./23.11.2014        Carnarvon & Edaggee Rest Area
21./22.11.2014        Lyndon River Rest Area
19.- 21.11.2014       Coral Bay
18.-19.11.2014        Cape Range National Park
16.-18.11.2014         Exmouth
14./15.11.2014          Port Hedland & Free-Camping Maitland River Side
13./ 14.11.2014        Cape Keraudren Campingspot direkt am Meer
12.- 13.11.2014        Broome (Cable Beach Campingplace)
11.11.2014                Ngumban Cliff Rest Area
10.11.2014                Wyndham
09./ 10.11.2014         Kununurra
08.11.2014                Nitmiluk Nationalpark - Katherine Gorge & Katherine & Saddle Creek Rest Area       
 07./08.11.2014         Edith Falls (Nitmiluk Nationalpark / Campingplatz)
 06./07.11.2014         Litchfield Nationalpark (Campingplatz Wangi Falls)
seit 12.01.2015

bei Emilia in Sydney - Darlinghorst



08.- 12.01.2015

bei Richard (Couchsurfing) in Sydney - Panania



07./08.01.2014


07.01.2015

Bermaguin (Murramarang National Park)



06./07.01.2014


05./06.01.2015

Stratford (Apex Park - Freespot)



05.05.2015

Melbourne (Eureka Skydeck 88 & Albert Park)



04.01.2015

Melbourne (Victoria Markets, Melbourne City, Fitzroy & St. Kilda Beach)



01.- 05.01.2015

Sandridge Beach Parkplatz, Melbourne 



31.12.14/ 01.01.15


seit 31.12.2014


29.- 31.12.2014

bei Rich (der Freund von einer Freundin von Katrin)



29.12.2014

Warrmambool & Great Ocean Road (The Grotto, London Bridge, The Arch, Loch and Gorge & Twelve Apostles)



28.12.2014


Portland, Port Fairy, Panumure (Freespot)



27./ 28.12.2014

Kingston SE & Blackfellows Caves (Freespot)



26.12.2014

Adelaide, Hahndorf & Balhannah (Oval Play Field -Freespot)



25.- 26.12.2014

Sunny's Adelaide Backpacker Hostel



24.12.2014

Christmas-Dinner mit seiner Familie



23.- 25.12.2014

bei Brendan in Adelaide (Couchsurfing)




22.12.2014   

             




Ceduna (Quarantänegrenze zu South Australia), Streaky Bay (Cape Bauer, Blowholes and Whistling Holes & Iron Knob (Campingplatz)




21.12.2014

Mundrabilla, Eucla, Nullarbor, Nundroo




20.12.2014

Balladonia, Caiguna, Madura




19.12.2014


Esperance - Great Ocean Drive & Norseman            




18./ 19.12.2014


bei Caitlyn mit Katrin und Guido in Pink Lake nähe Esperance (Couchsurfing)




18.12.2014


Esperance, Cape Le Grand National Park (Lucky Bay & Helfire Bay), Esperance Jetty




17./18.12.2014  


Kundip Freespot nähe Ravensthorpe




17.12.2014


Albany, Granite Sky Walk im Porongurup Nationalpark) & Bluff Knoll im Stirling Range Nationalpark 




16./17.12.2014 


Torbay Inlet Freespot (Torbay)




16.12.2014 


Greens Pool and Elephant Rock, Albany




15./ 16.12.2014   



15.12.2014     


Warren National Park 10 km Walk, Giant Tingle Tree - Walpole Nornalup Nationalpark




14.12.2014


Boyup Brook (Harvey Dickson's Music Center), Bridgetown, Pemperton, Warren National Park (Warren Camp)




13.12.2014


Margret River, Nannup, Balingup, Boyup Brook (Harvey Dickson's Music Center)             



12.12.2014


Canal Rocks Yallingup, Laurance Wines (Wine Tasting) in Wilyabrup, Gnarabup-, Prevelly Surfers Point- und Rivermouth Beach & Chapman Pool in Schroeder (Freespot)




11.12.2014 


Busseltown Jetty, Eagle Bay  - Rocky Point & Yallingup (Caves Caravan Park)




10./11.12.2014 


 in Vasse (Busseltown) bei Kerensa




09.12.2014  


Rottnest Island




08./ 09.12.2014 


Fremantle (Freespot Fleet Street - direkt am Leuchtturm zur Hafeneinfahrt)




06.- 08.12.2014  


Perth City Center (Ozi Inn Hostel)




05.- 06.12.2014


wieder bei Charlie in Perth - Subiaco (Couchsurfing)




04.- 05.12.2014


The Wave Rock in Hyden




01.- 04.12.2014 


bei Charlie in Perth - Subiaco (Couchsurfing)    




30.11.- 01.12.2014


York & Skydiving nähe York




29.11.2014


Perth & Couchsurfing bei Matt (Perth-Manningen)




28./29.11.2014


Moore River Bridge Rest Stop




28.11.2014 


The Pinnacles - Nambung Nationalpark




27./28.11.2014


Cliff Head Freespot




26./27.11.2014


Ellendale Pool (Freespot)   




26.11.2014 


Geralton



25./26.11.2014


Waminda Wildlife Sanctuary, Waggrakine




25.11.2014


Kalbarri Nationalpark, Red Bluff Lookout, Pink Lake, Waminda, Wildlife Sanctuary, Kalbarri (Tudor Holiday Park)



24./25.11.2014   


Kalbarri Tudor Holiday Park




23.- 24.11.2014

Denham, Monkey Mia Dolphin Resort, Shell Beach




22./23.11.2014  


Carnarvon & Edaggee Rest Area




21./22.11.2014


Lyndon River Rest Area                 



19.- 21.11.2014


Coral Bay




18.-19.11.2014


Cape Range National Park




16.-18.11.2014 


Exmouth




14./15.11.2014


Port Hedland & Free-Camping Maitland River Side




13./ 14.11.2014


Cape Keraudren Campingspot direkt am Meer




12.- 13.11.2014


Broome (Cable Beach Campingplace)




11.11.2014
Ngumban Cliff Rest Area
 

10.11.2014

Wyndham




09./ 10.11.2014 


Kununurra




08.11.2014


Nitmiluk Nationalpark - Katherine Gorge & Katherine & Saddle Creek Rest Area       




07./08.11.2014

Edith Falls (Nitmiluk Nationalpark / Campingplatz)



06./07.11.2014 


Litchfield Nationalpark (Campingplatz Wangi Falls)




seit 19.10.2014

wieder bei Darren in Horward Springs

 
15.- 19.10.2014

Oktoberfest in Darwin - Couchsurfing bei Colin, Tobi und Aron in Nightcliff (Darwin)

 
03.10.2014
Crocodile Cruise am Adelaide River & Berry Springs National Park mit Tobi
 
29.09.2014
Litchfield National Park mit Tobi
 
28.09.2014
Crocodile Cruise am Adelaide River mit Jimbo
 
02.09.- 15.10.2014

Couchsurfing bei Darren in Horward Springs

 
27.08.- 02.09.2014
Couchsurfing bei Colin, Tobi und Aron in Nightcliff (Darwin)
 
25.- 27.08.2014 

Nitmiluk National Park & Katherine

 
24./ 27.08.2014 

Mataranka Thermalbäder & Nitmiluk National Park

 
27.08.2014
Couchsurfing bei Colin, Tobi und Aron in Nightcliff (Darwin)
 
23./ 24.08.2014
Danmarra (Shell Station Campingplatz)
 
22./ 23.08.2014
Devil Marbles & The Pebbles - Kunjarra (Freespot)
 
21./ 22.08.2014
Alice Springs & Conner Well Rest Area
 
19.- 21.08.2014
Roadhouse Curtin Springs (Freespot), Kings Canyon (20.08) 
 
17.- 19.08.2014
Desert Gardens Resort Yulara bei Anja und Marc, Uluru (18.08), Olgas (19.08)
 
16./ 17.08.2014  
Roadhouse Curtin Springs (Freespot)
 
13.- 16.08.2014
Alice Springs (Stuart Camping Park)
 
12./ 13.08.2014
The Pebbles - Kunjarra (Freespot)
 
08.- 12.08.2014 
Mount Isa (Couchsurfing bei Quinton)
 
07./ 08.08.2014
Normanton
 
06./ 07.08.2014
Ravenshoe (BP Campingplace)
 
17.07.- 06.08.2014 
mein erster Nanny-Job bei Scott, einem geschiedenen Papa von 2 tollen Kindern Loranne (9) und Deen (14). Er hat die Kinder immer aller 2 Wochen und ich bringe sie morgens zur Schule und hole sie nachmittags wieder ab. 
 
18.- 20.07.2014

 in Kurrmine Beach mit Scott und seinen Kindern und seinen Freunden und 2 Franzoesinnen.

 
10.- 17.07.2014
 Fruitpicking ist beendet, Erholung bei Jack und Mieke
 
25.- 10.07.2014
Fruitpicking fuer Jack und Mieke in Malanda, einem tollen und super lieben aelteren Ehepaar mit freier Unterkunft
 
22.- 25.06.2014
bei Rose (gebürtige Heidelbergerin) in Tolga und Fruitpicking-Job in Malanda
 
17.- 22.06.2014
in der Lumholtz Lodge bei Margit (gebürtig aus Stuttgart) nähe Atherton (Wwoofing-Platz)
 
16./17.06.2014 
in Yungaburra (Wallabies Hostel)
 
10.- 14.06.2014 
in Tolga (Freespot)
 
14.- 16.06.2014
in der Lumholtz Lodge bei Margit (gebürtig aus Stuttgart) nähe Atherthon (Wwoofing-Platz)
 
06.- 10.06.2014 
etwas ausserhalb von Kuranda tief im Regenwald bei Suzie (gebürtig aus L.A.) im Garten
 
03.- 06.06.2014
in Kuranda (Campingplatz)
 
01.- 03.06.2014 
in Cairns (YHA Hostel)
 
31.05./ 01.06. 
Townsville (BP Freespot)
 
23.- 31.05.2014 
in Airlie Beach (Nomads Hostel - Housekeeping Job for free accommodation)
 
20.- 23.05.2014
Whitsunday Islands (Wings Segelschiff)
 
19./20.05.2014
in Airlie Beach (Base & Nomads)
 
18.05.2014 
in Rockhampton & Yeptoon (div. Freespots)
 
16.-17.05.2014 
in Agnes Water (Banana Hostel) & Town of 1770
 
16.05.2014 
in Hervey Bay, Childers & Agnes Water
 
15.05.2014 
in Hervey Bay
 
14./15.05.2014
in Rainbow Beach
 
12.- 14.05.2014 
in Fraser Island
 
11./12.05.2014
in Rainbow Beach
 
08.- 10.05.2014 
in Noosa (Campingplatz)
 
07./08.05.2014 
in Brisbane (YHA) 
 
06./07.05.2014
Tambourine National Park (gruseliger Rastplatz im Wald...)
 
22.04.-06.05.2014 
Byron Bay (Backpackers Inn und seit 24.04. Tourist Village Camping)
 
18.-22.04.2014
in Brisbane inkl. Autokauf
 
17./18.04.2014
in Surfers Paradies (Gold Cost)
 
17.04.2014
in Nimbin & Byron Bay
 
16./17.04.2014
in Nimbin
 
15./16.04.2014 
in Port Maquaria 
 
14./15.04.2014
in Katoomba (Blue Mountains, Flying Fox)
 
11.-14.04.2014
in Sydney (Wake up Hostel)
 
09.-11.04.2014 
in Port Stevens
 
07.-09.04.2014 
in Sydney (Wake up Hostel)
 
03.- 06.04.2014
in Abu Dhabi (Centro Hotel)
 
 Am nächsten Tag hatte ich das erste Mal so ein kleines bis mitleres Tief, was sich irgendwie schwer beschreiben lässt. Also beschloss ich, nach ca 3 vollen Tagen Dauercampingplatz, mir mal ein bisschen Kuranda anzuschauen. An meinem ersten Tag, als ich kurz da war, war ich eher sehr überrascht, dass um 16 Uhr schon alles zu war und die Stadt eher wie eine Geisterstadt aussah. Deshalb wollte ich es an dem zweiten Tag mal in der Mittagszeit versuchen und ich hatte Glück, die Stadt sah plötzlich wie verändert aus. Überall schöne bunte kleine süße Geschäfte und sogar ein kleiner schöner bunter Hippiemarkt. Dort habe ich mir auch ein Kleid gekauft, ich konnte einfach nicht widerstehen.  ;) Die Verkäuferin war super nett und sie erzählte mir auch, dass die Geschäfte hier grundsatzlich alle zwischen 15 - 15:30 Uhr schließen, damit die Leute noch mehr Zeit für sich, für die Familie und zum Entspannen haben. :)
Zirka 3 h später saß ich dann auf einer Treppe mit meinem Kaffee und wurde wieder von meinem Tief überrollt. Da kam doch wie durch Zufall die liebe Verkäuferin, bei der ich das Kleid gekauft hatte, um die Ecke und setzte sich zu mir. Sie fragte mich, ob ich wieder zum Campingplatz zurück gehe, denn ich könnte auch, wenn ich mag, kostenlos bei ihr im Garten schlafen, um mal zu erleben, wie ein Australier echt so wohnt. Das hat mich echt überwältigt. Gesagt, getan, am nächsten Morgen bin ich dann zu ihr gefahren und gleich ca. 5 Nächte geblieben. Es war so toll und ihr Haus war einfach der Hammer. Es war alles offen und das Haus hatte auch keine Fenster........ Tage